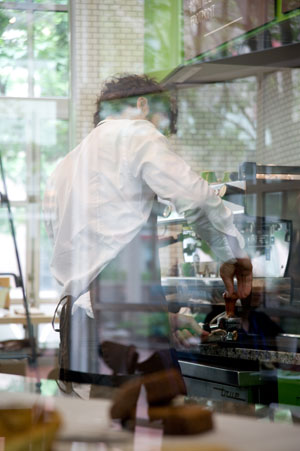 I can still remember the first time that I experienced the wonders of coffee. I was about to have an interview for a manager position at a cafe called Torrefazione Italia. I was presented with a cafe latte with a beautiful heart within it. Not only did it look amazing, but the taste was so creamy, smooth, and rounded with a chocolatey deliciousness!

I became a manager of this very cafe and remained in this space for five years. It was here that I developed a foundation of espresso knowledge and preparation, as well as the basics of latte art. I learned a lot during my time at Torrefazione Italia, especially from my mentor, Davide Bonamici. His flair for impeccable presentation and service inspired me. After enduring some changes in ownership, I moved away from 85 Newbury Street, my home away from home.

I took a role with Starbucks, managing the famous Steaming Kettle store in the Government Center section of downtown Boston. This was a great opportunity to further develop my management skills and re-enforce the value of systems and overall structure. I managed this store for about one and a half years before moving on to a great opportunity with George Howell Coffee Company.

I learned more than I could ever imagine. It was at the George Howell Coffee Company that I truly became aware of the potential of drip coffee. Prior to this, I had primarily been exposed to the ins and outs of espresso. However, it was here that I realized there is a special place for both espresso and drip. I remember George saying something to the effect of "espresso is like cognac and drip is a fine wine." I was lucky enough to have the incredible experience of tasting and critiquing coffee with George Howell himself. After all of these years of honing my craft, the time was finally right for me to open up my own cafe.

Thus, SIP Cafe was born within the beautiful park in Post Office Square in downtown Boston.
Jared Mancini (co-owner and founder)
___________________________________________
Ted Furst (co-owner)
Email: ted@thinkfurst.com
Cell: 617.290.3813